January 2018- Stonegate Holiday Party at Falls Bistro
July 2016– During the second quarter of 2016 Stonegate added Madison Arms to its portfolio. Located at 52-80 Madison St in Hackensack NJ, the property features a 52-unit luxury Garden Style apartment complex on a beautiful 1 acre property. The building is located directly off of Rt. 4, in a  sought after residential neighborhood across the street from public transportation and near Hackensack University Medical Center.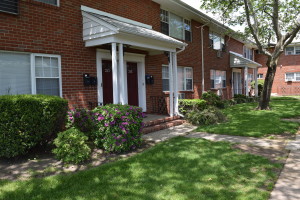 The 2nd quarter was an all-around exciting quarter for Stonegate in many ways, but most particularly for our Teaneck office/retail complex located at 545 Cedar Lane which made the quarter end with a bang. We successfully leased up the retail portion of the property which was completely vacant when we purchased it only 3 months earlier. The space was leased to the Tate Academy, a longtime professional dance studio specializing in Ballet, Tap, Acro, Hip hop, Jazz and musical theater. Tate Academy targeted the site as an attractive location being that its situated on a major commercial and retail district in addition to the major influx of young professionals moving to the area. We are extremely excited to welcome Tate Academy as a tenant to the property.
During the quarter Stonegate also added a 16 unit apartment building to its portfolio. The proeprty is located at 202 Ackerman Ave Clifton NJ and offers onsite parking to tenants. The property is an exciting addition to the Stonegate portfolio as it is located within close proximity to Stonegate's Passaic properties which further adds to our capability of management efficiency. The property is a few blocks from the main shopping district and walking distance to transportation.
Lastly, during the quarter a CoStar Report listed Stonegate as the single largest landowner in Passaic NJ (See graph below).This is an exciting and important milestone within the history of our company.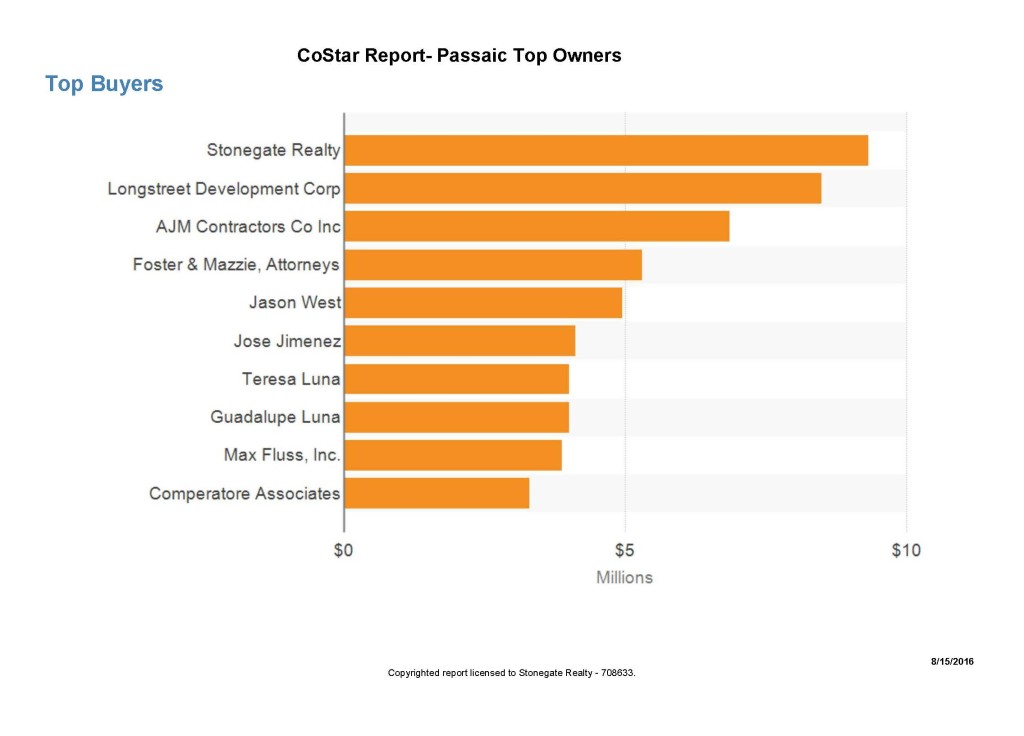 March 2016- As we complete the first quarter of 2016, we are very pleased to announce some of the more recent and exciting transaction opportunities we've had over these past few months. On March 14th, Stonegate purchased 545 Cedar Lane in Teaneck NJ. We recognize this acquisition as an extraordinary opportunity to our company given the below market purchase price of $98/PSF. The short timeline of only a 10 day closing further proves Stonegate's capability to respond rapidly to great opportunities.
We are very excited to add this property to our portfolio as we grow our presence in the North Jersey market marking us the 3rd largest owner in Teaneck NJ.
545 Cedar Lane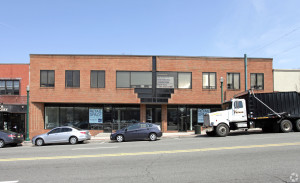 January 2016- As we enter into the new year we see even more growth and positive momentum at Stonegate. Our company ended 2015 on a high note, closing on a 21 Unit Apt building in Weehawken NJ in the 4th Quarter of the year. We kicked off the year to a great start by closing on a 13 unit Apt building in Bayonne NJ and a 21 unit Apt building in Fairview NJ with a handful of other exciting properties currently in the pipeline.
In the coming weeks we plan on beginning construction at 156 Gregory Ave in Passaic NJ and we look forward to watching this wonderful new luxury apartment project take shape.
The building will host upscale luxury apartments consisting of 18 2 bedrooms and 16 1 bedrooms units. Construction is slated to begin early March.
156 Gregory Ave Passaic NJ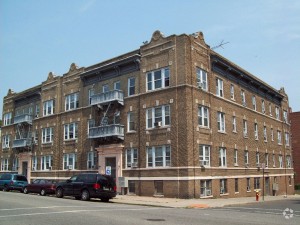 See our "In The News" page for some recent articles regarding the 452 Harding Place transaction which closed on January 6th 2016.
452 Harding Place Fairview NJ is a 21 unit multi-family property situated on the top of a cliff with exceptional views of Hudson County NJ. The property features above-ground covered parking and is down the block from retail shopping and direct transportation to Manhattan. Located in the popular Bergen County area, the property has significant value-add opportunity as we invest capital to re-position the property to a more luxurious rental complex.